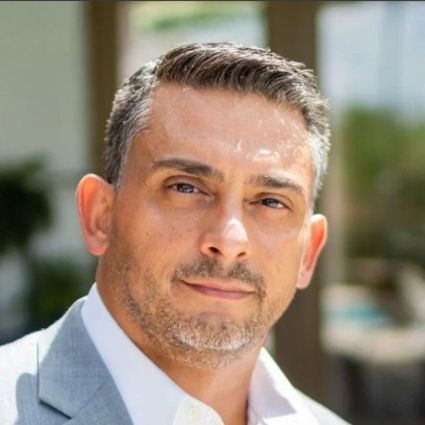 Bobby Baldor, P.A.
Bobby Baldor, REALTOR, P.A. | BROKER ASSOCIATE | Icon Agent
About Bobby
eXp Realty, the largest residential real estate brokerage by geography in North America and a subsidiary of eXp World Holdings (NASDAQ: EXPI).
Bobby is a U. S. Marine Corps Veteran and Florida native with over 17 years of combined, award-winning experience in Real Estate and Mortgage Lending in Central Florida. An eXp ICON AGENT and Certified Mentor. Formerly with RE/MAX where he was recognized as a Hall of Fame Member and a consistent Platinum Club Award Winner. Locally, a multi-year Gold-Level Award Top Producer within the Orlando Regional Realtors Association (ORRA). His consistent productivity has earned him universal recognition, named as a Top agent in numerous publications, year after year including being voted a Best of Southwest Orlando Realtor 6 years in a row!
Bobby holds a Florida Real Estate Broker's License with designations as a Graduate, REALTOR Institute (GRI); Accredited Buyer Representative (ABR); Certified Short Sale Professional (CSP); a Florida Military Specialist (FMS) and one of the few Real Estate Collaboration Specialists – Divorce (RCS-D) in Central Florida. These advanced designations denote expertise in financial, market, and investment analysis, in addition to negotiation. As such, he is considered an 'expert' in his field with experience in court testimony.
Bobby is also a dedicated member of his community and has served on numerous local Boards of Directors. He is a youth sports coach and a Partner in Education with Orange County Schools. Thus, Bobby was voted a 2015 ORRA Good Neighbor Award recipient for his volunteerism and charitable contributions by his peers.
Bobby and his beautiful wife Halle have three very active children; Isabella, 'Little' Bobby and Alex. They stay busy as a family with sports, extra-curricular clubs and travel. However, they also give back as a family and donate to local rescues as well as providing their home to foster animals whenever possible.
One of Bobby's greatest attributes is that time and again he has proven himself to be a selfless professional, treating each of his clients as if their property was the most important. He continues to work with his clients personally and does not differentiate between a $100K condo or a $1M house on a lake…anywhere in Central Florida, he gives each one the equal time, attention and respect that they deserve, as praised through the countless reviews written about him by former Buyers & Sellers!
Bobby Baldor has demonstrated the extensive experience and proven expertise in our local market to help you and your family achieve your real estate goals. But more importantly, he is a caring member of our community. Bobby's personal slogan is 'Your Real Estate Hero' …and he works hard to prove it.
Testimonials
"If you're looking for someone to sell you a house, look elsewhere. If you're looking for someone with masterful knowledge of the process, first-hand in-depth experience of the local area, 100% dedication to the job (this isn't a weekend supplementary gig for him), someone who has your back and someone who will honestly give you their open (but professional) opinion, then stick with Bobby Baldor. Bobby is eloquent, intelligent, and full of energy. He knows things he shouldn't - like the manufacturing history of polybutylene pipes. He's personable and above all keeps your best interest at heart. He's super fun to work with and would definitely recommend others to do so."
"Our home was not a easy house to sell. Bobby went above and beyond to market our home in a way that attracted many buyers. There were complicated details to the home that were difficult for most to explain much less understand. Bobby's ability to educate and inform people is like none I have ever seen. That is because he is caring, honest and hard working. He and his team spent hours conducting open houses. The house sold quickly when others said it would not. Bobby and his team did not stop there. They guided us thru the inspections, promptly answered our endless questions with care and understanding. If you are looking for the right agent, look no further. Bobby Baldor and his team is the real estate company you need."
"Bobby is great. He was extremely insightful and always went above and beyond to help us with both the sale of our previous home and the purchase our dream home. I've worked with other real estate professionals in the past, but all future transactions I intend to do them with Bobby as my representative or my listing agent. His attention to detail, attentiveness and problem solving abilities we really put to work during our transactions and he really showcased his unique skillset in his specialty. He is my top recommendation if anyone asks."
"I am highly satisfied with Mr. Baldors service. His turnaround time is quick. I came to him last minute on a time clock, looking to sell my home within a month or two...Bobby was able to get it sold in a few days after meeting with me AND for more money than we originally intended. Hands down...hes THE BEST!"
Yajaira Rios
Sold a Single Family home in 2019 for approximately $325K in Apopka, FL.
"We are family! Bobby agreed to list my marital home which was being sold by court order, wherein he was listed as the agent. Saying it was messy is putting it very very mildly. For over a year, he had to communicate with multiple attorneys that were very litigous at times, and he appeared in court several times because of disputes between the sellers. It was cumbersome and neverending. He took this property to closing twice but the first time was stopped in bankruptcy court where he also had to appear. Needless to say, he is helpful, extremely legal literate with real estate and what is within real estate law and what is not, he was kind when I became personally stressed out, and handled everything in the most professional way possible. He took care of all the vendors involved in appraisal, inspections, lenders and title company. This man knows his job and does it 100%. Please consider using him - I had to choose listed and sold below but his job entailed so much more on this particular sale."
Susan Baughman
Sold a Single Family home in 2018 in Longwood, FL.
"A great experience! Bobby Baldor guided my wife and I in a considerate and professional manner as we prepared our home for sale. As importantly, when he listed the home...he got results! It sold quickly, with no problems. Thank you Bobby."
Ken Hutcheson
Sold a Single Family home in 2019 for approximately $400K in Orlando, FL.